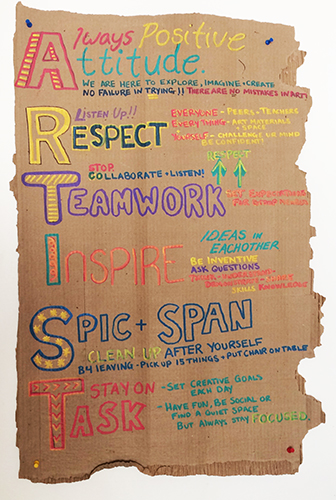 Within my classroom, I always hang a poster made out of cardboard to transmit the message that all individuals inherently possess the key characteristics to be an artist: Adaptable (problem solver), Resourceful (inventive), Team Worker (cooperation), Inspiring (positive), Spic and Span (responsible and clean), Task oriented (focused mission).
My goals as a teacher is to guide students through the meandering process of inquiry providing a foundational knowledge of materials to embolden students about what art can be, the role of the artist in society, and how the concepts of art can be extended to inform any field of practice. In my classroom and studio, I advocate that there are no mistakes in art and only possibility with an openness to process.
Teaching is a critical extension of my studio practice. I leverage a cross-disciplinary approach to support the discovery of potentials of individual and collective creativity to encourage young artists curiosities as they become proficient explorers, researchers and makers.
Below are examples of programs and projects I have developed sometimes in partnership with other organizations or co-teaching.
2017 Makers/creative arts/sPECIAL PROJECTS grade 6-8
Manchester Academic charter school
I taught at Manchester Academic Charter School Maker Program co-teaching with Scott Ardisson and taught a Creative Arts Class. I was invited to teach the Future Cities Program that correlated with the Future City National Contest. Projects were mainly explorations in different mediums that encouraged skill building, collaboration and building confidence both individually and as a group.
2016-2017 eXPLORATORY: Make it! YEAR LONG OUTREACH pROGRAM- GRADE 7 aSSEMBLE pITTSBURGH AT eNVIRONMENTAL cHARTER scHOOL
2015-2016 NEU GIRLS ARTS ENRICHMENT PROGRAM
Neu Kirche Contemporary Art Center, Pittsburgh, PA
NEU GIRLS Arts Fellows After School Program for Pittsburgh Northside girls 8-13 was held from Fall 2015-Summer 2016. The 10 month multidisciplinary program served as a platform for girls to build technical skills and explore creative processes in a collaborative and inclusive environment. The generative curriculum draws on the processes of photography, printmaking, zine making, and exhibition design with the mentoring support of fourteen professional teaching artists. These professionals impart technical skills, introduce the girls to new conceptual ideas, and empower them to express themselves through conventional and innovative art-making processes. The program is facilitated in partnership with Artist Image Resource, an artist-run Northside nonprofit printmaking studio. Participants built on their technical skills through creative projects designed to bolster self-efficacies, turning barriers into opportunities for sustained personal development. Throughout the program the girls have confronted fears of failure together by building their confidence to express themselves as we instill that there are no mistakes in art, only possibilities for transformation through process.
I developed the entire curriculum for the Neu Girls Arts Enrichment program, curating over 18 local artists and built relationships with local organizations to create an education web intersecting real life connections of for youth to understand the importance and impact of the visual arts. NEU GIRLS uses active learning strategies to enhance academic achievement and promote the development of important creative-based learning skills such as critical thinking, problem solving and collaboration.
This project was supported in part by the Hive Fund for Connected Learning at The Sprout Fund.
2011-2018 YOUTH MENTORING
Consistently, since 2011, I have been working as a private art teacher for youth age 10-14. I work closely with the youth and parents to design a lesson plan that fits the youth's interests builds upon their skills and broadens their experience with other mediums such as graphite drawing, painting, sculpture, printmaking and collage and photography. Sessions are held weekly for 2-3 hour periods over the course of four to six months. Over this period, these young minds create a student portfolio that shows a depth of understanding the world around them, discovering their strengths and building confidence through art making.
All of the youth I have worked with have applied to CAPA, a Pittsburgh Arts Magnet school and have all been accepted for middle school attendance.
Please contact me to set up an initial meeting with your child! oreen.cohen@gmail.com. References available upon request.
2014-2017 YOUTH CAMPs and workshops
Youth camps and workshops are designed for kids of all ages and usually implemented in partnership with a local non-profit, school, library or organization.
For more education examples, references or new contracts please contact me directly oreen.cohen@gmail.com